Business Loans built with your business in mind.
Your business - Your loan - Your terms.
Key Features
Lower Rates
Local Loan Experts
Personalized Products
Better Business Rewards Credit Card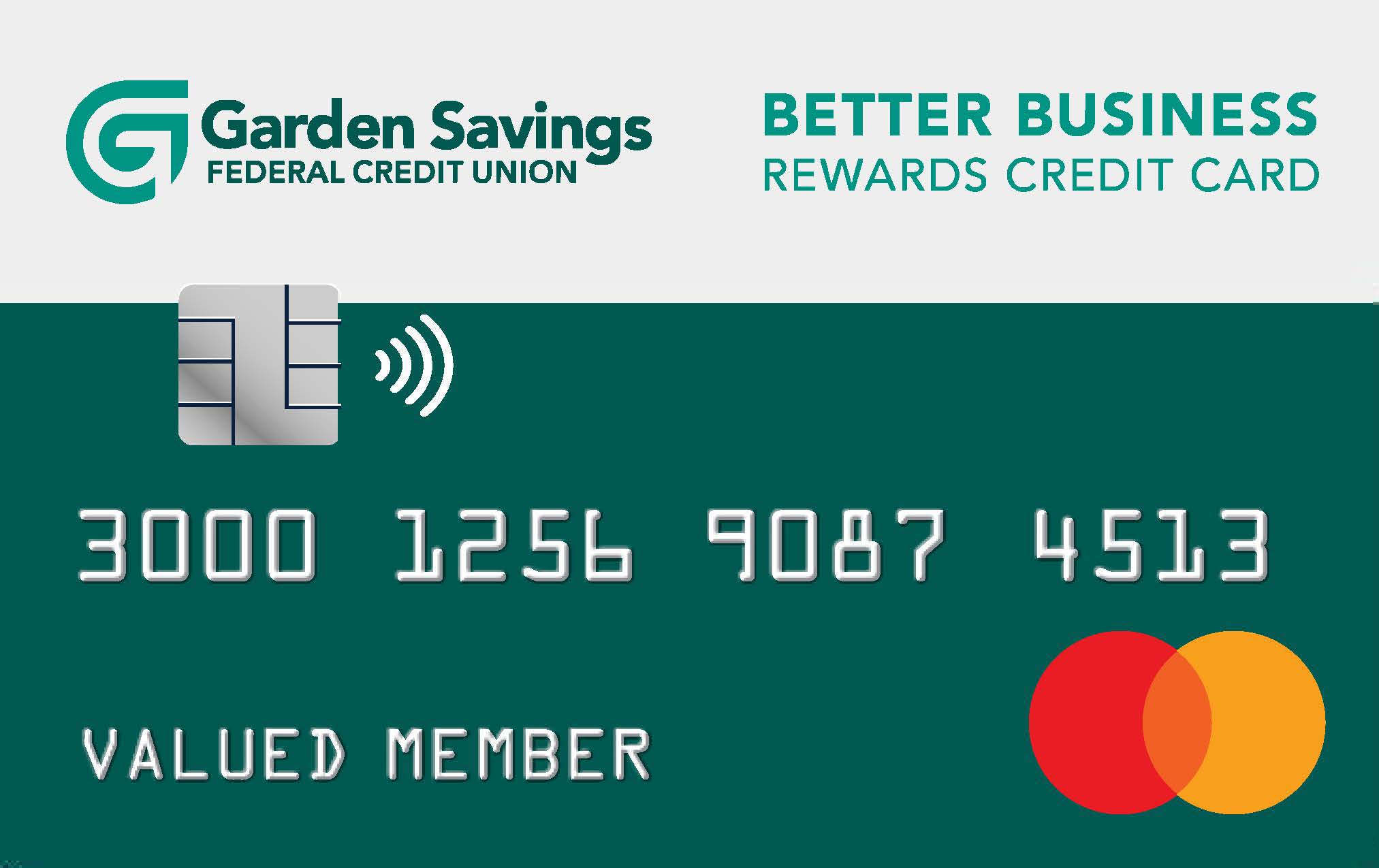 Our Business Rewards Mastercard Credit Card is a fixed rate card with higher limits for small business owners. There are no annual fees, cash advance fee or balance transfer fee.
Enhanced purchasing power locally, across the globe, or online
Competitively low, fixed rate
Earn 2 points per every $1 spent redeemable through our ScoreCard Rewards Program for

Gifts
Travel Discounts
Gift Cards
Cash Back

Earn extra points during promotional periods throughout the year
No hidden costs
No minimum finance charge
No annual fee
Easy account access – view balances, transaction histories, and make payments from your computer
Avoid finance charges when your balance is paid in full within 25 days
Easily replaced if lost or stolen
Free Balance Transfers
Take advantage of your entire credit limit and low rate by transferring balances from other credit cards to your Garden Savings credit card. Enjoy the convenience of having fewer bills, lower payments, and no balance transfer fees.
Free Cash Advances
Take advantage of cash advances with your card at any Garden Savings branch or any affiliated financial institution. There is NO cash advance fee from us. Interest accrues from date of advance.
Better Business Auto Loans
Competitively low rates for new or used vehicles
Up to 100% financing available
Budget-friendly repayment terms up to 84 months
Convenient automatic payment option available
Free pre-approval for extra confidence upon negotiations
Simple, hassle-free process supported by our local decision making and processing
Detail-oriented lending specialists who answer your questions in a timely fashion
Additional Auto Resources
Beyond financing, we also offer a wide range of coverage options and auto buying discounts and helpful tools to our members. See Coverage Options and Auto Buying Help below for more information.
Better Operating Loans
Competitively low rates
Borrow up to $30,000 for almost any personal need
Does not require collateral backing (signature loan)
Minimum loan amount of $1,000
Repayment terms available up to 72 months
No application fee
Simple, hassle-free process supported by our local decision making and processing
Detail-oriented lending specialists who answer your questions in a timely fashion
ePayments
Better Business Line -Of-Credit
Variable rate line-of-credit for business owners
Advances funds to business checking account for overdraft coverage
Utilize debit card, checks, or online transfers for fund advances
Competitively low interest rates
Borrow up to $25,000 for personal needs
Simple, hassle-free process with local decision making and processing